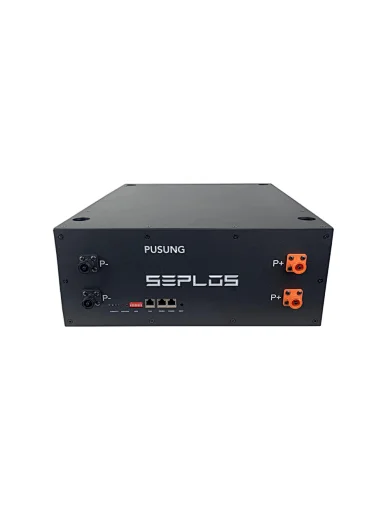 Seplos US EU Stock PUSUNG-S TUV 51.2V 100Ah LiFePO4 Home Energy Storage Backup Battery with Growatt SMA Victron DEYE Sofar
If you want wholesale price, please do not hesitate to contact us.
More video about the lithium phosphate battery pack for detail,please visit

Our YouTube channel

Specification:
| | |
| --- | --- |
|  Nominal Capacity |  100Ah @0.5C discharge current 25±2℃ |
|  Nominal Voltage |  51.2V |
|  Cell Dimension |  565*440*170mm |
|  Continuously Charge/Discharge Current (A) |  100A @25±2℃ |
|  Standard charge/discharge Current (A) |  50A @25±2℃ |
|  Cell chemistry |  Lithium iron phosphate (LiFePO4) |
|  Net Weight(single cell) |  56.2±5KG |
|  Standard Charge Current |  50A @25±2℃ |
|  Cycle life |  ≥80% capacity state after 4800 cycles at 0.5C, 25℃, 100% DOD |
|  Standard Discharge Current |  50A @25℃ room temperature |
Features
Brand New Grade A 3.2V 100Ah aluminum case prismatic cell. 

Battery cell is made from lithium iron phosphate (LiFePO4) with safety performance and longer cycle life.

Specially designed plastic cell holder features fire proof and insulation. 8 cells in series composes a battery module, and two modules in series, then connected with BMS, composes a SEPLOS PUSUNG battery pack.

BMS has over-discharge, over-charge, over-current, high and low temperature warning and protection functions. 

BMS monitors the charge and discharge state, and balance the current and voltage of each cell. 

BMS comes with upper computer system for real-time cell and pack voltage, current, temperature, and battery status monitoring and recording. 

Flexible configuration, max. 15 packs can be connected in parallel for expanding capacity and power with 8 DIP switches. 

Large working temperature range from -10℃ to 50℃ (Charging 0℃~50℃; discharging -10℃ ~50℃) with excellent discharge performance and cycle life.

Pre-programmed with multi-protocols, SEPLOS PUSUNG works with multi-brands of inverters. 
This Seplos lithium phosphate battery pack designed by Seplos technology will suitable for multi-brands of inverters as below:
Applications