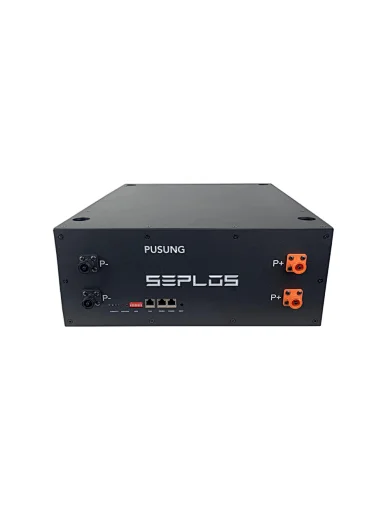 Seplos PUSUNG-S 51.2V 100Ah Lifepo4 Lithium Battery Pack 5.12KWh Home Energy Storage System
If you want wholesale price, please do not hesitate to contact us.
More video about the lithium phosphate battery pack for detail,please visit Our YouTube channel
SEPLOS PUSUNG-S lithium phosphate battery pack is a household renewable energy storage
solution developed and produced by SEPLOS Technology. It is a low-voltage DC battery system with
an operating voltage of 48V, and works with a low voltage inverter to realize the goal of energy
storage for home application.

Specification:
| | |
| --- | --- |
| Item | lithium phosphate battery pack |
|  Nominal Capacity |  100Ah @0.5C discharge current 25±2℃ |
|  Nominal Voltage |  51.2V |
|  Cell Dimension |  565*440*170mm |
|  Continuously Charge/Discharge Current (A) |  100A @25±2℃ |
|  Standard charge/discharge Current (A) |  50A @25±2℃ |
|  Cell chemistry |  Lithium iron phosphate (LiFePO4) |
|  Net Weight(single cell) |  56.2±5KG |
|  Standard Charge Current |  50A @25±2℃ |
|  Cycle life |  ≥80% capacity state after 4800 cycles at 0.5C, 25℃, 100% DOD |
|  Standard Discharge Current |  50A @25℃ room temperature |
This PUSUNG Series lithium
phosphate battery pack designed by Seplos technology wil

l

suitable for
multi-brands of inverters as below:
Applications